Peranbu Review: A fabulously made emotional drama which will conquer hearts
The much-awaited Tamil movie named Peranbu had released here in Kerala today. Megastar Mammootty is playing the lead in this movie and it was written and directed by popular director Ram. PL Thenappan is the one who bankrolled this flick under the banner of Sri Rajalakshmi Films and this film had made news as it was screened in some major international film festivals across the globe. Sadhana, Anjali Ameer, Anjali etc play the other important characters in this movie, which has been made as a realistic family drama.
The plot of this flick revolves around the characters played by Mammootty who is a taxi driver and his daughter who is suffering from spastic paralysis. The protagonist lives with his wife and daughter in a village as he wants to stay away from cities. He believes that cities will have a harmful effect on people. The flick explores family relationships and especially that of a relationship between a father and daughter.
Ram had given us some beautiful and meaningful movies earlier as well. He had got national recognition for his movie. What makes his movies so different is the unique themes he select for his films. Peranbu too tells us one such story and we have to say that, both as a writer and director, Ram had given us a classic. It is an emotional drama which will touch the heart of each and everyone who watches it. The plot situations were realistic and very much convincing. The dialogues will touch your heart too. It is an entertainer and at the same time, it is a socially relevant movie too.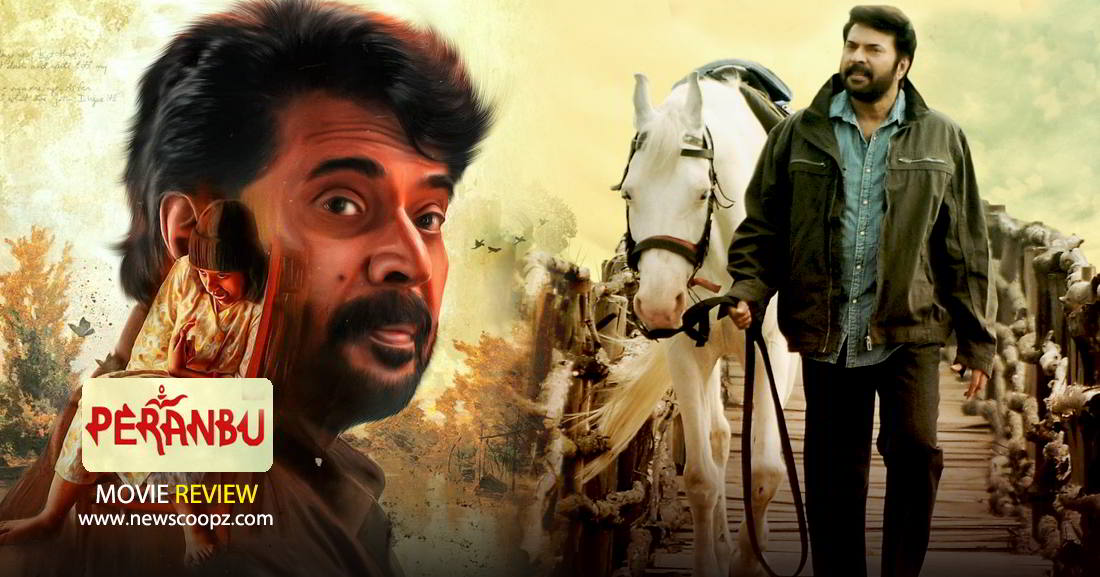 Mammootty's performance as the lead character named Amudhan is the highlight of this film, as he once again had given us a sterling performance. When it comes to emotional sequences, he is just fabulous, to say the least. His body language and dialogue delivery have been stunning as well. Sadhana had given an amazing performance as the daughter character and she is the one who had stolen the show with her mind-blowing performance. Others like Anjali Ameer and Anjali too did a fine in this flick.
DOP by Theni Eeswar has been beautiful as he had really captured some amazing visuals from rural Tamil Nadu and from high ranges. Yuvan Sankar Raja had scored the music and once again he had done a great job with his songs and background soring. Surya Pradhaman edited the flick and he had provided a nice pace to the movie which will never make the audience yawn inside the cinema hall.
In total, Peranbu is one of the best films in both Ram's and Mammootty's career. It is a class and realistic entertainer which discusses a very relevant theme and you all are in for a unique cinematic experience for sure.